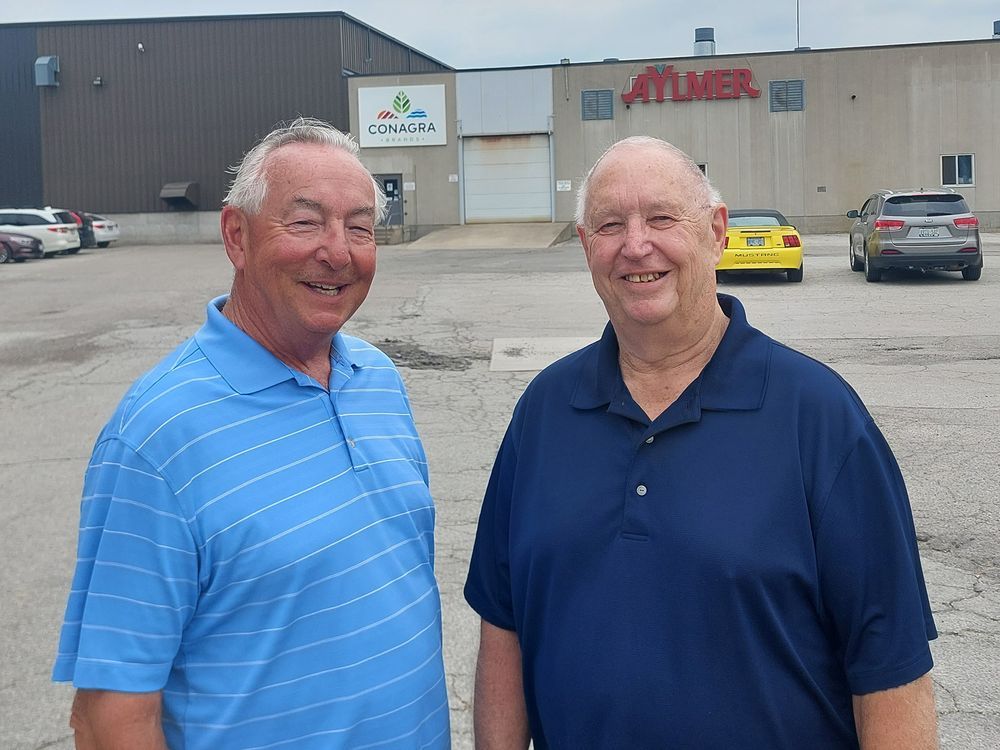 75th anniversary of tomato planting celebrated in Dresden
Content of the article
Many residents and farmers of Dresden and the region have lived well – and, for many, a good retirement – ​​thanks to the community's tomato processing plant.
Content of the article
Food processing giant Conagra Brands Inc. hosted a party on Sunday to mark the 75th anniversary of its Dresden tomato processing plant, which opened on Wellington Street in 1947.
"It's something so special that the Dresden community has here with this facility, the history, the employees and just their passion," said plant manager Simon Hogervorst.
He said generations of families have worked at the factory, as well as generations of farming families who have grown the tomatoes processed there.
"It's so special to see how the facility is so integrated into the community, the families and the surrounding area," Hogervorst said.
Tomatoes have been grown and processed in Dresden for over a century. Today, Conagra employs around 200 employees in Dresden and another 200 seasonal workers during its annual fresh-packing season. The Dresden plant processes approximately seven million cans per year.
Former plant manager Dave Hoyles, who started at the plant in 1980 as a front-line supervisor, said 'automation and innovation' were the two biggest changes he's witnessed during his career.
"When I came here, everything was basically done by hand," he said. "It was hand-peeled, hand-cored."
Having worked his way up to factory manager in 1987, Hoyles said it was the people he worked with that made the job so enjoyable.
"Literally, I was spending 80% of my day on the floor, walking around talking to people, finding out what was right, what was wrong – trying to accentuate the good and eliminate the bad," said he declared.
Content of the article
Hoyles served as plant manager until 2005, before moving to Toronto with the company before retiring in 2012 after 32 years.
The presence of a tomato processing plant in Dresden dates back to 1903 when Canadian Canners opened its doors. During the first part of the 20e century, Canadian Canners operated processing facilities in many communities across Ontario.
Longtime Dresden city politician Joe Faas, who worked at the plant for a season more than 50 years ago, suggested on Sunday that Dresden "would look very different from what it is today if we didn't have the canneries".
He remembers when the factory processed spinach, asparagus, beets and potatoes, as well as tomatoes. He said the facility has provided good jobs while benefiting the local farming community.
Faas said many employees have been able to "get out of school, stay here, and have a career here."
He said local residents like Hoyles and Don Roberts have been able to work their way up to factory managers.
Infrastructure, such as a sewage treatment plant and a water supply from Lake Erie, probably wouldn't be in Dresden today without the Conagra plant, Faas added.
"It's a great testament to what an industry can do for a community."
Bob Vandeweghe is another employee who has had a rewarding career at the Dresden plant.
He started working there on March 24, 1962, driving tractors around asparagus farms in the area.
"In 1966 I transferred to the factory and started as a supervisor in 1981," Vandeweghe said. He retired on December 31, 2004 after 42 years of service.
Content of the article
"It was great working, we had a lot of different owners, we had a lot of different names, and they were all good."
When he started working at the factory, Vandeweghe said it was not "unusual to work 12-hour shifts".
He added: "At that time, you were doing a lot of manual work but, over time, technology took over.
Hoyles also got to know the local growers who supplied the tomatoes from the plant, saying he also knew many of their fathers and some of their grandfathers.
Hoyles said negotiating contracts and terms could be adversarial at times, but once an agreement was reached, they "shook hands and we got on wonderfully".
Brothers Sam and John Janovicek followed in their father Paul's footsteps to grow tomatoes for the Dresden factory.
Sam Janovicek said his father used to farm for Libbey's until one day a field man came by the farm and suggested he 'grow for the canneries' and 'he decided to do it' .
He said he had seen a lot of changes over the years in the tomato industry.
"Before the tomatoes were picked and put in baskets and now it's in bulk and we use harvesters," he said. "We should not be too dependent on aid."
John Janovicek said the brothers have been involved in growing tomatoes for the plant for most of their lives.
"We were in the tomato field when mom was picking. … (The factory has) paid a lot of bills, it has been good for us," he said.