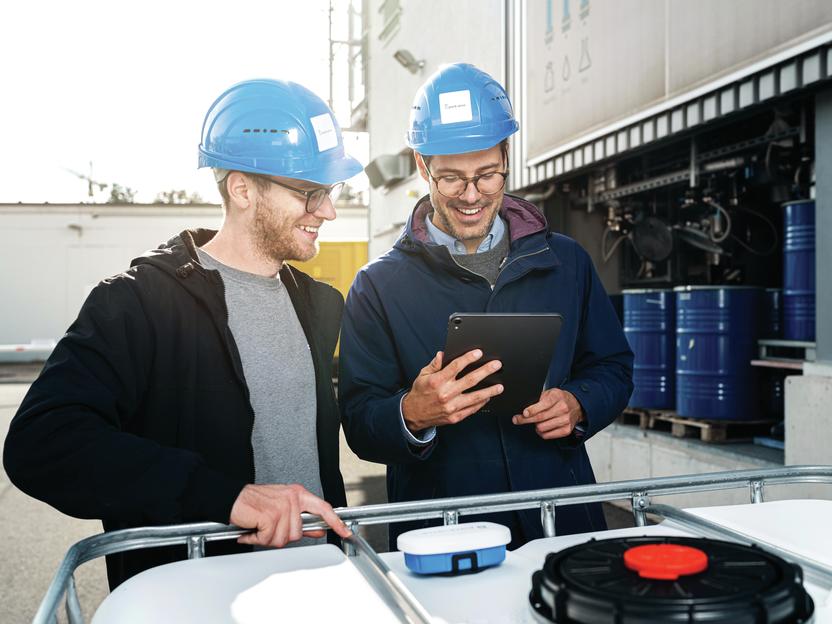 Dresden-based industrial tech startup Packwise closes Series A funding round
With its Industrial-IoT solution, Packwise, based in Dresden, creates transparency in the supply chain of companies in the chemical, food and pharmaceutical industry. Founded in 2017, the startup has already received numerous awards and currently works with 45 industrial clients. Now, Packwise has successfully closed the Series A funding round with a seven-figure Euro amount. Investors include Technologiegründerfonds Sachsen (TGFS) and family offices Hüttenes hoch drei and Golzern Holding.
Thanks to the Packwise solution, consisting of a high-precision sensor, the Packwise Smart Capand the associated platform Packwise flow, companies optimize and automate processes through the availability of data on containers and the products they contain. The Packwise solution is also used by companies to reduce the administrative work and costs associated with supplying their own customers. "With the help of Packwise, production planning is optimized and product quality is ensured from filling to customer pick-up. Logistics are made more sustainable and automated replenishments are triggered. In addition, our solution makes it possible to offer new services, such as supplier-managed inventory models or consignment warehouses, which represent a significant competitive advantage for customers", describes Gesche Weger, CEO of Packwise.
The unique combination of hardware that allows easy attachment to liquid containers of different types and sizes with a highly intelligent platform positions Packwise as a market leader in the field of supply chain digitalization in the processing industry. the Packwise flow The platform and its analysis capabilities have been significantly improved over the past year. The platform is specifically designed for process industry operations and the management of a large number of moving containers.
With the newly acquired capital, Packwise aims to expand in Europe, further strengthen development and sales partnerships, as well as work in new international markets where business relationships are already underway. Therefore, Packwise is aiming to get its hardware approved for North America and other international markets. At the end of 2022, Packwise plans to launch the ATEX/IECEx variant of the Packwise Smart Cap, which will allow the solution to be used in explosion-proof areas.
"The Packwise solution allows companies to significantly strengthen the customer-supplier relationship through the implementation of new service models, placing them at the forefront of the industry. The team of specialists has succeeded in demonstrating the relevance of the solution in the market. We look forward to continuing to support Packwise in the scale-up phase," says TGFS Managing Director Sören Schuster of the ongoing transaction.