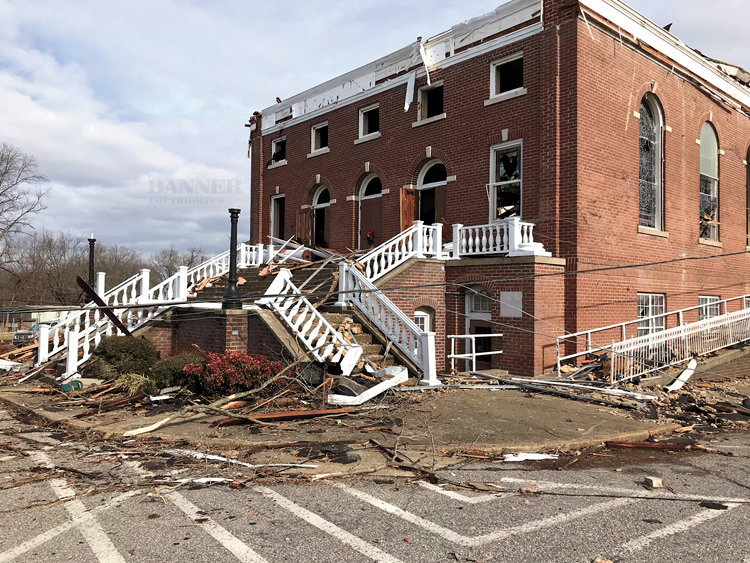 Dresden devastated by a tornado | The Mckenzie Banner
A multi-state tornado on Friday night left a lot of destruction in its path, totally destroying some areas and leaving extensive damage in others.
In Carroll County, damage was limited to a destroyed barn, the ripped roof off the Bobo driving range building on State Route 22, McKenzie and downed trees as well as a power outage. Carroll County Sheriff Andy Dickson said Carroll County was fortunate to have minimal damage compared to any surrounding counties.
The neighboring city of Dresden suffered heavy damage in the city center and adjacent areas.
Other geographic areas, such as Mayfield, Kentucky, suffered mass loss of life and destruction in the city.
Totally destroyed or badly damaged: Kountry Korner on State Route 22, Dresden 4×4, Vaughn Brothers Hardware, Poppi's Pizzeria, all buildings on the City Hall side of Court Square, Dresden Enterprise, Woodmen of the World, Dresden Cumberland Presbyterian Church, United Methodist Church, Delta Imaging, Anderson Eye Care, Hometown Healthcare, Weakley County Election Commission, as well as many downtown homes. A total of about 100 structures were damaged.
Mayor Jeff Washburn was at his home in downtown Dresden during the tornado. He and his family were in the basement when the tornado hit his house, damaging it beyond repair. He resides across from the fire station, which was heavily damaged in the tornado. Firefighters had earlier pulled out fire engines and organized those around town for a quick response in the event of heavy casualties. This decision turned out to be brilliant when the fire station was destroyed.
Dresden Police Officer Bryan Chandler, a McKenzie native, was at City Hall when the tornado passed through the building and the roof was torn from the structure. His family moved safely to the basement while he remained on the ground floor of the building. A wood hit him on the head. He was taken to hospital for outpatient treatment. Chandler said he told the doctor he had to go back to Dresden to help others.
On Sunday, downtown was filled with the sound of chainsaws and heavy equipment clearing the roadways. Blue tarps were stretched over the roofs in anticipation of the rains later this week.
Washburn praised city and county first responders and area agencies for their assistance Friday night. They reacted quickly and began a door-to-door search. He said dump trucks and dumpsters were due to arrive on Monday to help with debris removal. The town hall will temporarily move and put its contact details online.
Washburn announced a curfew for the city of Dresden in effect from dusk until dawn until further notice.
Dresden City Hall has temporarily moved to the McWherter Civic Center. Dresden's mayor and council will meet there on Thursday at 6 p.m. to discuss what to do about the town hall and fire station.
Henry County Director of Emergency Management Ron Watkins said, "The National Weather Service reported Sunday afternoon that damage in Henry County was caused by an EF3 tornado with a speed of wind estimated between 136 and 165 mph. Five people were treated for injuries at Henry County Medical Center. Two people were rushed by Henry County AMR EMS from Elkins Road just north of Highway 140 and Shady Grove Road when their home was destroyed by the tornado. Both people were at home when it hit. Sixteen houses were destroyed and four others suffered heavy damage. Forty-three homes were listed as light to moderate damage ranging from missing shingles and siding to part of the roof decking.
The Tennessee State Emergency Operations Center is operational today with Tennessee State personnel supporting response efforts and resource requests in areas affected by severe weather and tornadoes Friday and Saturday.
The state of Tennessee remains under a state of emergency as local and state authorities begin and continue the damage assessment process in approximately 20 affected counties.
Tennessee has had four weather-related deaths: two deaths in Lake County; one death in Obion County; and one death in Shelby County.
The Crisis Cleanup Line, 800-451-1954, is active and accepting calls from Tennesseans in storm-damaged counties who need volunteer help cleaning up from the storms.
The National Weather Service will continue field investigations today in Tennessee, Burns (Dickson County), Stewart County, Nashville (Davidson County), Mt. Juliet (Wilson County), Hendersonville (Sumner County) and Smith County today.
NWS crews confirmed six tornado hits in Tennessee yesterday and today:
Perry County to Bucksnort in Hickman County, EF-1, 100 mph winds, 250 yards wide, 12.2 miles long.
Hickman County at I-40, EF-0, 85 mph winds, 100 yards wide, 4.66 miles long.
Dickson County, EF-2, 135 mph winds, 500 yards wide, 8.34 miles long.
Dickson County to Burns, EF-1, 110 mph winds, 175 yards wide, 5.3 miles long.
Cheatham County to Kingston Springs, EF-2, 125 mph winds, 400 yards wide, 10.5 miles long.
Davidson County at Percy Priest Lake to Mount Juliet in Wilson County, EF-1, 105 mph winds, 100 yards wide and 7.6 miles long.
Local jurisdictions will continue damage investigations in affected counties today, with TEMA staff assisting officials with their assessments and to ensure that all life safety needs are met. There are no preliminary damage figures to report at this time.
Boil water advisories remain in effect in Dresden, Kenton and Samberg due to impacts to water systems.
Tennessee Governor Bill Lee is today requesting federal emergency assistance for nine counties affected by the tornado outbreak that began in the state on the evening of Friday, Dec. 10, 2021 and will eventually kill four when it will finally be finished on Saturday, December 11. .
"Our emergency managers, first responders and law enforcement brought hope where there was none in the wake of these storms," Governor Lee said. "Our effort now will be to bring as much relief as possible to these devastated communities."
Governor Lee is asking President Joe Biden for an emergency declaration to make federal assistance available to Cheatham, Decatur, Dickson, Dyer, Gibson, Lake, Obion, Stewart and Weakley counties for debris removal and emergency protective measures.
If the declaration of emergency is granted, the Federal Emergency Management Agency will reimburse jurisdictions for eligible work or provide direct operational assistance.
Governor Lee says Tennessee will seek a major disaster declaration for eligible jurisdictions once local officials have been able to complete a thorough storm damage assessment to put public assistance and personal assistance programs in place. FEMA available to counties declared eligible for federal assistance.
Tennessee experienced two severe weather lines beginning Friday evening and Saturday morning as a warm, unstable air mass moved across the state. The storms produced at least seven tornadoes in west and central Tennessee, claimed four lives in the state and left more than 150,000 people without power at the height of the inclement weather.