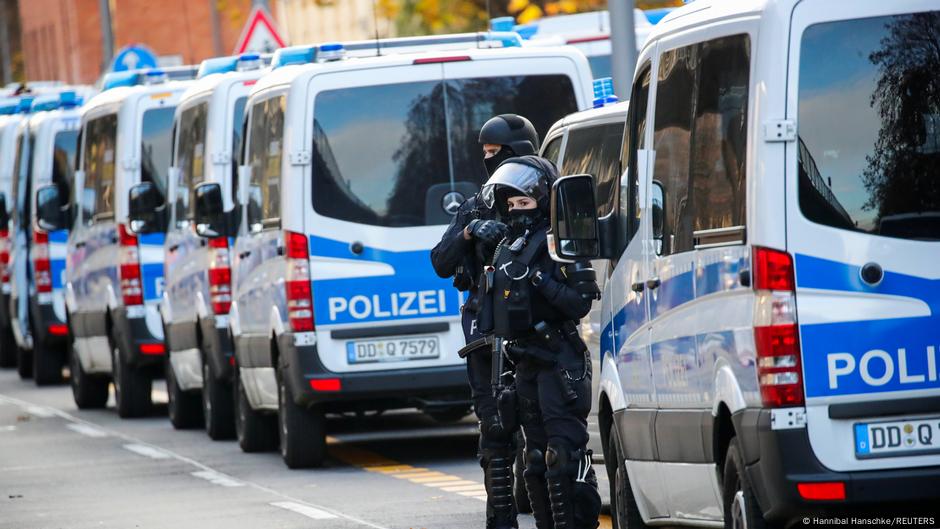 Dresden Green Vault jewelry heist: Trial to begin next month | News | DW
Six men will stand trial in eastern Germany next month for their alleged role in the spectacular theft of 18th-century jewelery from a museum, with the court setting a January 28 trial date on Wednesday.
Prosecutors allege the men are responsible for the break-in at Dresden's Green Vault museum on November 25, 2019. The suspects were charged with stealing 21 jewels encrusted with more than 4,300 diamonds. The jewelry had a total insured value of at least 113.8 million euros ($129 million) and the incident has been called the biggest heist in modern German history.
Investigators are still searching for the missing artifacts, despite the heist that took place more than two years ago. The Dresden White Diamond and the Polish Order of the White Eagle were among the items stolen.
Suspects all in their twenties
Security camera footage released by Dresden police after the 2019 heist shows two suspects entering the room, waving their flashlights as they cross the black-and-white tiled floor. They then smash a glass display case with an ax before taking three sets of jewelry. The flight was a quick operation. By the time police arrived at the scene, five minutes after security staff had raised the alarm, the thieves had fled.
The suspects, who are all German nationals between the ages of 22 and 28, were also charged with setting a fire before the robbery in order to cut off power to streetlights outside the museum. In addition, the six men also torched a car nearby, before fleeing about 200 kilometers (about 125 miles) north of Berlin.
The state court in Dresden said the process would begin on January 28, with currently scheduled trial dates set to continue until the end of March.
jsi/msh (AP, dpa)