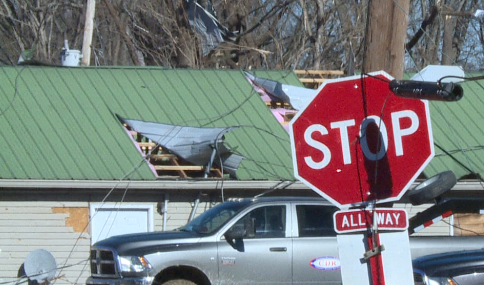 Dresden residents clean up community after EF-3 tornado strikes
DRESDEN, Tenn. – Community members come together to clean up their town after a tornado ripped through the area on Friday.
Shortly after 11 p.m., an EF-3 tornado hit parts of Weakley County, wreaking havoc in downtown.
"Fortunately, our house was spared, but there is a ton of damage in our neighborhood. In particular, the street above was obliterated," said Heather Nelson, who lives in Dresden.
However, it didn't take long for volunteers to help put their community back together.
"We arrived here early Saturday morning. As soon as it was daylight, we began to work," said Phil Mitchell, missions director for the Weakley County Baptist Association.
The Weakley County Baptist Association has been helping members in Dresden for two days now, and they have no plans to stop any time soon.
"We will stay there for the long term because that is where we live. We'll be here until we get it all cleaned up," Mitchell said.
And the number of volunteers in the community continues to grow.
"Today when we got here at 8:00 a.m. there were probably at least 75 people there. Some of these people are from here in Weakley County, but some are from other parts of West Tennessee" , Mitchell said.
And other members of the community are taking the first step to help their neighbors in any way they can.
"I kind of hit the pavement as soon as things started blowing up, and all my neighbors started coming out and getting their hands dirty. I wanted to be part of it. Right now I'm here at First Baptist Church picking up disaster relief forms to distribute to my neighbors," Nelson said.
If you're looking to help, Weakley County Baptist Association Disaster Relief says they can use all the help they can get. But they ask you to call before showing up.
"There are needs here at the church that you can also help with. Some ladies prepare meals and help with other things. So if you want to come, we would appreciate it if you could come," Mitchell said.
The tornado left many people homeless and hopeless, but community members are urging others to keep hope alive.
"I'm so grateful that to my knowledge there were no casualties. Just hug your loved ones, be thankful for another day and get out there and help your city," Nelson said.
If you would like to volunteer to help in Dresden, contact them on Facebook.
The tornado that hit Dresden was first spotted in Newbern and then traveled to central Tennessee.
You can find more local news through the WBBJ 7 Eyewitness News app.