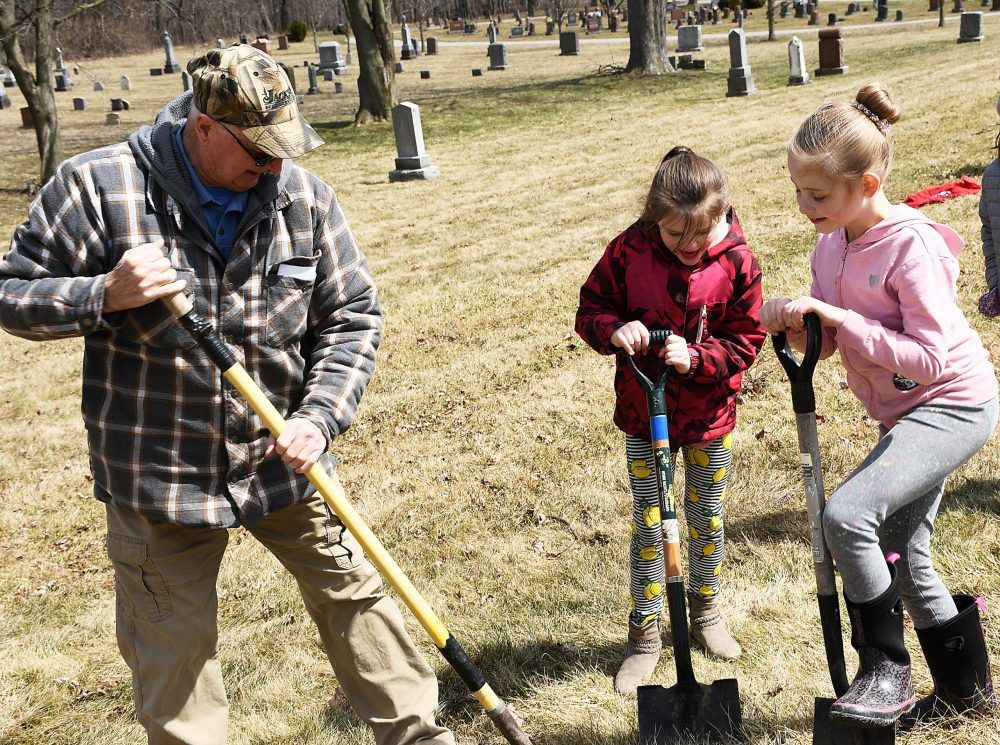 Dresden schoolchildren help rebuild storm-stricken cemetery
Content of the article
Schoolchildren in Dresden put their shovels into the ground to help restore a local cemetery hit by a major storm seven months ago.
Content of the article
Greg Pilecki, owner of arboriculture company CK Tree Care, organized the April 7 event for second and third graders at Dresden Area Central School to replace trees lost in the September storm.
The children worked as a team at the cemetery in Dresden digging holes, placing new seedlings, turning soil to the ground and spreading mulch.
Pilecki, whose company was hired by the Municipality of Chatham-Kent to help with the cleanup last fall, said it was a good opportunity for the "next generation" to get involved in their community.
"We lost a lot of big trees. It was a very catastrophic and damaging event here at the cemetery and I just had this idea to give back," he said.
"I'm from Dresden myself and thought what a great opportunity to contribute, to be a good steward of our community and to give back."
Collin Mardling, the municipality's cemetery operations supervisor, said the storm uprooted or toppled at least 12 trees and others had to be pruned or removed for safety reasons.
He said he appreciated the donation of the trees from CK Tree Care.
"There will be more trees planted today (April 7) than were lost in the storm to ensure the site retains its peaceful setting for future generations to enjoy," Mardling said. in an email before the event.
"We are thrilled that local school children can participate and enjoy stewardship initiatives in Chatham-Kent.
Content of the article
The municipality closed the cemetery for five days in September due to the storm. Tree branches landed on headstones and roads. The road inside the cemetery was out of order in some areas due to uprooted trees.
The municipality hired another contractor to restore approximately 24 fallen monuments in the cemetery.
According to a November report to council, the entire cleanup cost around $24,700.
Mardling said the Department of Parks, Recreation and Cemeteries will work with the Lower Thames Valley Conservation Authority to continue tree planting efforts.
"We expect to see more trees arriving later in the year once we can remove the stumps from the trees that have been lost," he said.
Tyson Parry, the students' science teacher, said he quickly accepted the opportunity after speaking with Pilecki.
"I didn't learn how to plant a tree until I was 30 and I thought it was a good opportunity for these kids to learn long before that," he said.
The teacher said he hopes his students will also have a new appreciation for trees after this outing.
"They're all local kids, so I think they'll come back here and see the trees grow and hopefully impress them," Parry said.
"They begin to understand the importance and benefits of trees (at their age). Some of them can tell you quite precisely what a tree does. We've learned that lately, so it's really neat to be able to do that.