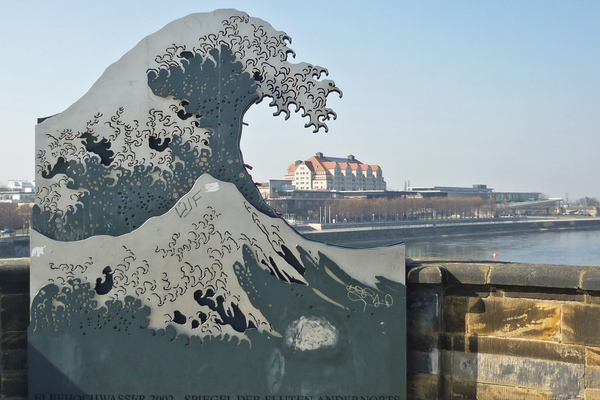 Elbehochwasser Memorial 2002 – Dresden, Germany
At Katsushika Hokusai's woodcut "The Great Wave off Kanagawa" is one of his most internationally known works, so famous that it has even found its way into phones as an ocean wave emoji. It has become such a symbol today, often representing a tsunami or the sea itself, that wherever you find it, whether outside of Japan or not, it probably won't look too out of place.
This is also the case on the Augustus Bridge in Dresden, which connects the Innere Neustadt with the Altstadt on the other side of the Elbe. A large reproduction of Hokusai's wave stands on one side of the bridge, often taken as a photo opportunity by passing tourists heading to the old town. But what it really represents is a catastrophic disaster that struck the city in 2002, claiming the lives of 232 people across central Europe.
Known as the Elbehochwasser in Germany, intense week-long rains in August 2002 caused the Elbe to flood to a record height, leaving huge damage in its wake. It is considered one of the worst natural disasters in German history and the city of Dresden was hit hard.
In 2005, local artist Tobias Stengel created the artwork Hokusai and won an art competition with the design, which resulted in it being installed on the Augustus Bridge the following year. Officially titled "Die Woge" or "The Wave", the Elbehochwasser memorial bears a phrase: "Spiegel der Fluten andernorts", which means "mirror of the floods elsewhere". It stands as a reminder of the dangers of flood waters.