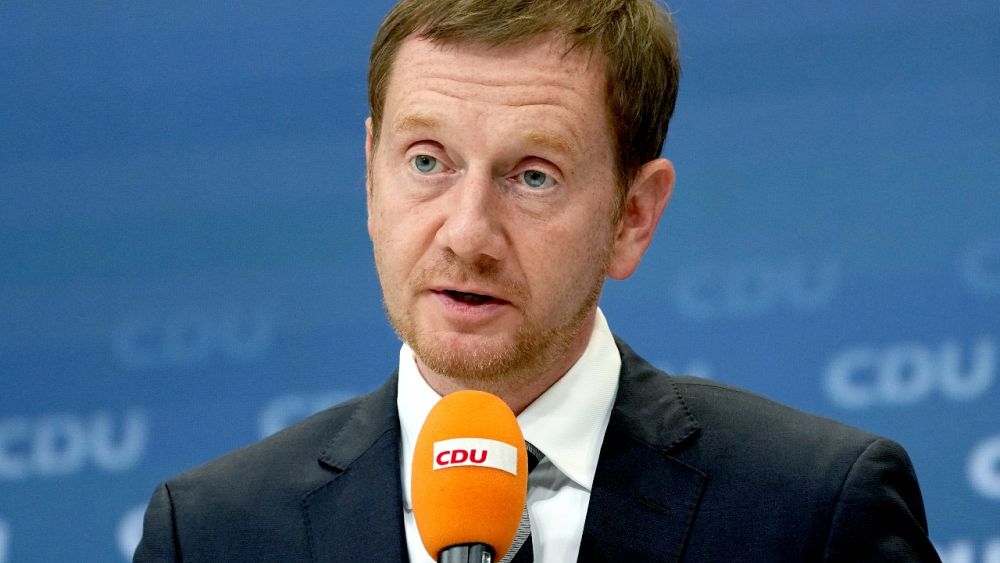 German police launch raids in Dresden following anti-vax death threats against governor
Police in eastern Germany are investigating death threats against a state governor due to coronavirus restrictions and vaccinations.
Several properties in Dresden were raided early Wednesday as part of an investigation into "serious violent crime" plans, police said on Twitter.
The investigation was triggered by reports last week that an anti-vaccine group discussed plans to kill Saxony's CDU state governor Michael Kretschmer and other members of the state government on the Telegram messaging service.
Dresden – the capital of Saxony – has seen frequent protests against coronavirus restrictions and has the lowest vaccination rate in Germany.
Kretschmer said threats against officials, scientists and journalists "are unacceptable, will not be tolerated and will be pursued with all our might."
According to the ZDF report, all 103 members of the group share a rejection of vaccinations, the state and current coronavirus policy.
The Telegram channel was broadcasting audio messages in which people called for opposition to measures "with armed force if necessary" directed against Kretschmer and others.
"Statements by some members of the group suggested they may be in possession of live weapons and crossbows," police said in a statement, without indicating whether any arrests had been made.
Tom Bernhardt, spokesman for the Saxon State Criminal Police Office, said six members of the Telegram group were under investigation.
The police investigation – assisted by special intervention forces – began a day after the publication of the ZDF report.
Faced with a violent fourth wave of the pandemic, the German government has decided to tighten restrictions on unvaccinated people, who can no longer access most public places, restaurants and non-essential businesses.
Kretschmer was one of the first heads of state to cancel events like Christmas markets and restrict the access of the unvaccinated to certain public places.
Social Democratic Party (SPD) politician Sebastian Fiedler, an expert on security issues, told the Bild newspaper in an interview published on Tuesday that around 15,000 to 20,000 opponents of health measures are ready to resort to violence.
Meanwhile, Chancellor Olaf Scholz told parliament on Wednesday that Germany would not tolerate "a tiny minority of uninhibited extremists trying to impose their will on our whole society".