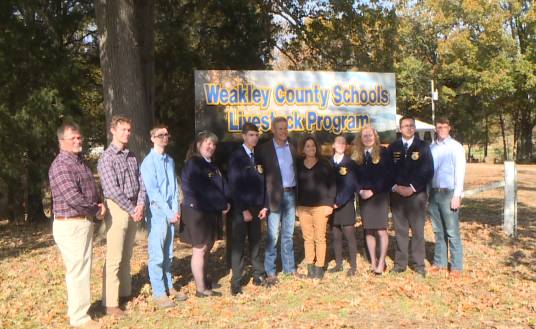 Governor stops at Dresden High in County Weakley
WEAKLEY COUNTY, Tennessee — Governor Bill Lee paid a special visit to Dresden High School Friday morning.
Upon arrival, he was welcomed by the arts program.
"We entered the school to attend a concert given by a group. It was remarkable, but what's most remarkable is the focus on the arts that they have here," Lee said.
Lee was then able to participate in an entrepreneurship course, offered by the high school.
"When we have career, technical and agricultural education pathways, it can lead to colleges of applied technology or certificates and dual enrollment even when they are in high school. It's an opportunity. We need to give kids the opportunity to pursue their passions to succeed in life," Lee said.
The headteachers and the governor then toured the school component of agricultural education and the agricultural facility on campus.
"It's a great opportunity for students to understand how important agriculture is to our economy. Agriculture is the biggest part of Tennessee's economy, so what they learn here is great for their future," Lee said.
Lee pointed out that vocational, technical and agricultural education is a path to success for students. He says it's something we need more in Tennessee.
"Walking around a pig pen and a cattle pen is something I've done my whole life, so it's a good day," Lee said.
The Governor's Investment and Vocational Training Act provides $1 million grants for vocational and technical training programs in high schools.
By the end of this year, he expects 75 schools to better prepare students for careers through TCAT and be funded through the grant program.
You can find more local news through the WBBJ 7 Eyewitness News App.