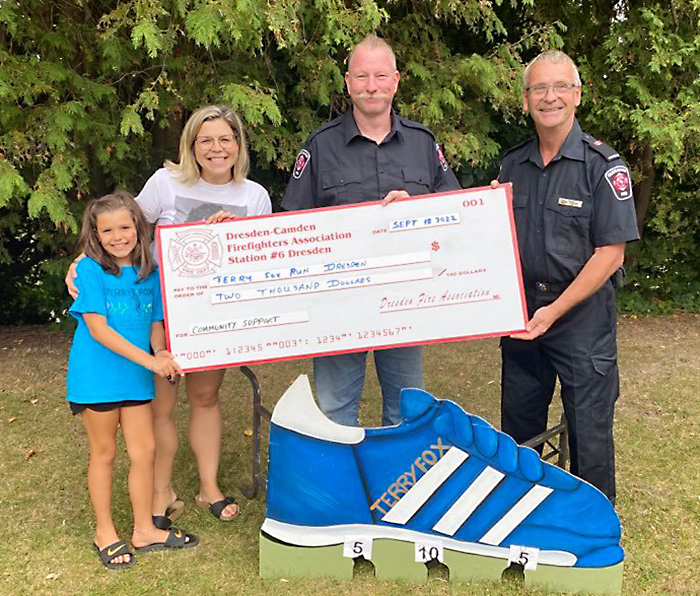 Oops, they did it again in Dresden
Dresden has done it again.
Building on its rich history, the 27th Annual Terry Fox Community Run, held September 18, raised over $51,000, once again breaking the year's record former.
According to organizer Meg Robinson, electricity was in the air on the day of the event with more than 250 people attending.
"It was of course Terry's time that Sunday," Robinson explained. "Each year Dresden takes over, and this year was no different, we hit an all-time high for most funds raised."
The post-pandemic run has allowed participants and volunteers to come together now that COVID-19 protocols have been relaxed.
"Everyone was so happy to be back in person to continue supporting a cause so near and dear to so many," Robinson said.
In the past, the Dresden event has received high profile recognition as it has been in the top 10 in Ontario for more than two decades for dollars raised per capita.
For 25 years, the event was coordinated by Cindy Brewer, who handed over the reins to Robinson in 2021.
Other Chatham-Kent Terry Fox events have been successful.
In Blenheim, nearly $25,000 was raised in the community; The Tilbury event raised over $15,000; while supporters of the Wallaceburg Terry Fox Race raised over $19,000.
The Terry Fox races in Ridgetown and Chatham were both online and raised around $3,000.
Since Terry Fox ran his Marathon of Hope in 1980, Canadians have raised over $850 million for cancer research through annual Terry Fox events.
comments
comments