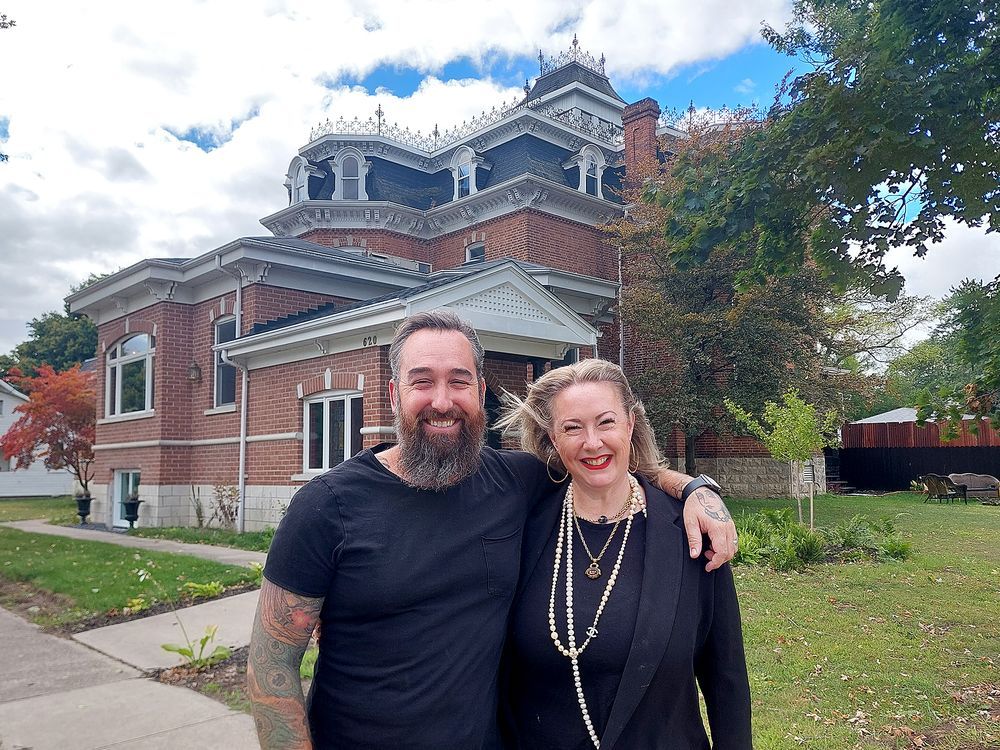 The Dresden family star in new TV series We Bought A Funeral Home
DRESDEN — There probably aren't many residents living here who haven't visited Arryn and Heather Blumberg's home, but it was likely to see a dearly deceased relative or friend.
Content of the article
DRESDEN — There probably aren't many residents living here who haven't visited Arryn and Heather Blumberg's home, but it was likely to see a dearly deceased relative or friend.
Content of the article
Now, many more people will get to see much of the $400,000 renovation the couple did to their 38-bedroom, 1,115-square-meter (12,000-square-foot home) on the first episode of We Bought. A Funeral Home airs Saturday on the Discovery+ streaming service.
Arryn Blumberg said he saw an online article about the Dresden property in Narcity, an online publication, in winter 2020 after the couple decided to leave Toronto during the COVID-19 pandemic.
"But it wasn't listed as a funeral home," Heather Blumberg said.
After some "cyberbullying", she said the couple quickly learned about the former use of the vast house.
Tom and Linda DeBurger owned and operated Thomas L. DeBurger Funeral Home for more than four decades before retiring six years ago. The house, built in the 1880s, was first used as a funeral home in the early 1920s by Wilson Clark.
Content of the article
"We decided to buy it within the first 10 minutes," said Arryn Blumberg. "(His story) really didn't bother us at all. … Generally, funerals are places where people come to celebrate something.
Describing the rite as a celebration of love, Heather said "that's what the house gives off to us".
After a follow-up story from Narcity about the Blumbergs' purchase of the property, Heather was contacted by Heart Hat Entertainment to see if they would be interested in discussing the possibility of a TV show.
"Next thing I know we're here and we're shooting a sizzle reel (short promo demo) and the next minute a couple different networks wanted it," she said. "Before we knew it, we were signed up to do a TV show."
Content of the article
Noting that the family loves Halloween, Arryn said the new series "is a great way to play" with the holiday.
Heather said it took around 18 months to film the episodes, adding that it was interesting to see how their children – son Rafferty, now 21, and daughter Noa, now 14 – turned out. grew up during this period.
"It was a trip," she said. "It was a lot more intense than I thought, we imagined."
But, she added, they worked with a great team that made the experience fun.
"It took a lot of learning," Arryn said. "I think episode one is going to be a lot clumsier than episode six. We hope people stick with it a bit, because we're not viewers. We are not actors.
Promoted as part of the Discovery + Ghostober lineup, We Bought A Funeral Home is described as "an eerie news series that will unveil an unconventional side to the field of home improvement".
Content of the article
The promo for the first episode states, "The Blumbergs will encounter a series of chilling events while settling into their new funeral home."
Stating that he was "not a believer", Arryn said the house was still "100% haunted".
"In particular, there's a lady shouting 'Hello,'" Heather said.
They both heard her, they added,
Arryn said there were times when he was home during the day and heard what he thought was someone yelling at him, so he yelled back.
Afterwards, he texts Heather and learns that she is not home.
Over the years, people have also seen a lady in a blue dress standing on the main staircase. The Blumbergs said the story behind this reported appearance would be revealed on the show.
Content of the article
However, the family is not disturbed by the unexplained noises that have occurred in the house.
"There's nothing threatening about it," Heather said.
The series will also highlight the impressive renovation the house has undergone, led by Heather, an interior designer. However, the Blumbergs are under contract not to reveal any details, especially images, until the start of the series, meaning The Chatham Daily News could only take one picture showing the exterior of the house.
In fact, they had to be careful what you see in the photos they post on social media.
Arryn said the family is proud of Heather's design work.
"Making it look like a home took a long time," he added.
Heather said the conversion of viewing areas from the Old Funeral Home required extensive plumbing, HVAC and electrical work.
Content of the article
A former observation area has been transformed into a kitchen with a massive central island. Another interesting feature of the house is a speakeasy room, complete with a coffin-turned-bar. Renovations to turn the former casket showroom into a home theater, as well as the addition of a personal gymnasium, are also underway.
Heather said that since the series trailer was released, she has received a lot of attention from the United States, including requests from a design publication.
"We love this place and we hope people will like it and want to know more," she said.
Because there is such a community connection, Arryn said virtually everything comes from the area for their home renovation.
Where possible, they also asked the production company to hire local people to be part of the film crew, Heather added.