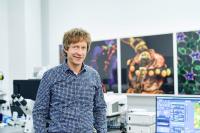 ZEISS Innovation Hub in Dresden opens its Doo
At the end of May, the team from the ZEISS Innovation Hub in Dresden got to work. An official opening ceremony for the Hub will take place as soon as it is permitted to do so. For the first Hub program – organoid model research – Dr. Kai Wicker and his team moved into the EKFZ for Digital Health on the campus of the Carl Gustav Carus University Hospital – a stone's throw from top experts in the field.
This proximity to academic partners such as TU Dresden, CHU and the Leibniz and Max Planck Institutes, as well as to start-ups and innovative companies in the region, allows ZEISS to benefit from a research and innovation ecosystem exceptional. The objective is to maximize local engagement and scientific exchange while benefiting from synergies to promote talented young researchers.
ZEISS plans to rapidly expand the Innovation Hub in terms of both its priority topics and its workforce. To that end, new staff will initially be hired to work primarily on the organoids program and on a variety of topics that go beyond the initial focus on biomedicine. In addition to life sciences and medical technologies, the Hub team sees potential for additional links, with digital technologies, microelectronics and computing, as well as with artificial intelligence, nanotechnologies and research on the materials.
ZEISS and TU Dresden forge strong collaboration
Last February, Prof. Ursula Staudinger, Rector of TU Dresden, and Dr. Karl Lamprecht, President and CEO of ZEISS Group, signed a collaboration agreement. The objective is to strengthen the historic links between the two institutions in the fields of research, teaching and innovation, but also continuing education, globalization and recruitment.
The collaboration with TU Dresden is part of ZEISS' overall innovation strategy. The objective is to continue to develop the company's presence in research centers and to intensify networks with scientific and economic players.
Joint organoid research activities
The first research activities on organoid models were planned in collaboration with TU Dresden, University Hospital Dresden, Leibniz Institute for Polymer Research and Max Planck Institute for Molecular Cell Biology and Genetics. Other collaborations will follow, notably with other institutes and establishments. Organoids are artificially produced parts of tissue that closely approximate human organs such as the liver and open up entirely new and modern application options for researchers.
"Organoid models have the potential to revolutionize mechanistic biology, drug development and personalized treatments. We are excited to have this opportunity to support the stellar research being conducted by our Dresden-based partner with our expertise in microscopic imaging , while allowing us to quickly gain insight into breakthrough innovations in pharmaceutical research and personalized medicine," says Dr. Kai Wicker.
Professor Jochen Hampe, project leader at TU Dresden, EKFZ spokesperson and gastroenterologist at University Hospital Dresden, said: "EKFZ is delighted that ZEISS has joined our multidisciplinary consortium of qualified organoid experts and we are now in an even better position to implement interdisciplinarity between medicine and technology and solve key challenges in a concerted effort. There has never been a better time to take advantage of current advances in organoid technology and deliver your spoils to the patient faster.
A strategic investment in the future
The ZEISS Innovation Hub in Dresden, the ZEISS Innovation Hub @ KIT at the Karlsruhe Institute of Technology (KIT), the new ZEISS Innovation Center in Dublin, California (USA) and the new ZEISS High-Tech Site in Jena (expected to be completed in by the end of 2025), all are part of ZEISS' global innovation strategy. ZEISS has a long tradition of high spending on research and development. It also represents our investment in the future. ZEISS continuously invests more than 10% of its turnover – more recently up to 12% – in research and development. As part of our innovation strategy, the ZEISS Innovation Hub gives ZEISS the opportunity to shape future technologies together with its partners.
About ZEISS ZEISS is a leading international technology company operating in the optics and optoelectronics industries. In the past fiscal year, the ZEISS Group generated annual sales totaling more than EUR 6.3 billion across its four segments Industrial Quality & Research, Medical Technology, Consumer Markets and Semiconductor Manufacturing Technology (status in September 30, 2020).
For its customers, ZEISS develops, produces and distributes highly innovative solutions for industrial metrology and quality assurance, microscopy solutions for life sciences and materials research, as well as medical technology solutions for the diagnosis and treatment in ophthalmology and microsurgery. The ZEISS name is also synonymous with the world leader in lithography optics, which is used by the chip industry to manufacture semiconductor components. There is a global demand for forward-thinking ZEISS branded products such as spectacle lenses, camera lenses and binoculars.
With a portfolio aligned with future growth areas like digitalization, healthcare and smart manufacturing and a strong brand, ZEISS is shaping the future of technology and constantly advancing the world of optics and related fields with its solutions. The company's significant and sustained investments in research and development lay the foundation for the continued success and expansion of ZEISS technology and market leadership. ZEISS invests 12% of its turnover in research and development – ZEISS has a long tradition of high spending in these areas. It also represents the company's investment in the future. With more than 34,000 employees, ZEISS operates in nearly 50 countries around the world, with around 60 sales and service companies, 30 production sites and 27 development sites. Founded in 1846 in Jena, the company is headquartered in Oberkochen, Germany. The Carl Zeiss Foundation, one of Germany's largest foundations committed to the promotion of science, is the sole owner of the holding company Carl Zeiss AG (status: March 31, 2021). More information on http://www.zeiss.com
###
About Technical University of Dresden
The Technical University of Dresden is one of the best universities in Germany and Europe. A pioneer in research, first-class in the variety and quality of the study courses it offers, it maintains close links with cultural establishments, companies and society. As a modern university, it offers a wide academic spectrum with its five subject areas in 17 faculties, which only very few other German universities can match. It is the largest university in the German federal state of Saxony. The large TU Dresden campus has approximately 31,500 students and some 7,800 employees, including 600 professors. The TU Dresden has been one of Germany's 11 "Universities of Excellence" since 2012. The university successfully defended this title when it was reassessed on July 19, 2019. More information at http://www.tu-dresden.de
About the Else Kroener Fresenius Center for Digital Health
The Else Kroener Fresenius Center for Digital Health (EKFZ) is an interfaculty initiative of the Technical University of Dresden and the University Hospital Carl Gustav Carus Dresden on the Dresden campus. The research center enables interdisciplinary projects at the interface between the digital world and patients, thus bridging efforts in the field of big data and traditional biomedical technology. More information at digitalhealth.tu-dresden.de
---
Warning: AAAS and EurekAlert! are not responsible for the accuracy of press releases posted on EurekAlert! by contributing institutions or for the use of any information through the EurekAlert system.